Post by JRavens on Oct 6, 2015 11:51:44 GMT
EDIT - OK it's official! Ubi has unveiled the first video and a website for Far Cry: Primal!
The Cat is out of the bag now!
OFFICIAL FAR CRY: PRIMAL WEBSITE:
far-cry.ubisoft.com/primal/en-GB/home/index.aspx
---------------------- (original post below) ----------------------
Some chaps who watch Steam ID codes like hawks spotted that there was a mysterious entry recently coded internally as "Far Cry Sigma". These internal names are not necessarily the actual game names and are often development labels and such so as not to reveal what the actual title is.
It could just as easily be a re-release of an earlier Far Cry title in HD (Fa Cry 1 or many of it's spinoffs including Instincts, Instincts Predator, etc.)
Alternatively if the name was remotely accurate I would be tempted to believe it had something to do with Blood Dragon although Ubi did say they wouldn't be making a Blood Dragon 2.
Then apparently the other day Ubi teased an animated cave wall painting on their YouTube channel about an "upcoming game" (with no further details):
Now IGN in Turkey goofed and released something they shouldn't which was immediately pulled: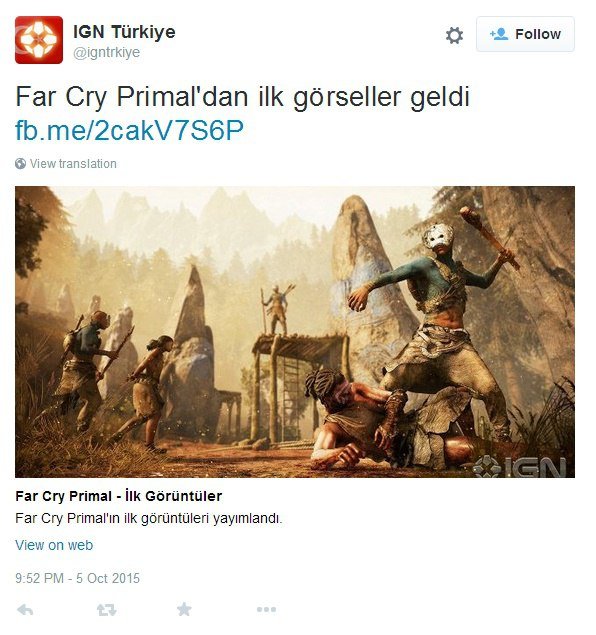 The translation is apparently (roughly - this translation is from a Turkish speaker on Reddit):
"The first photos from Far Cry Primal came." (there's no present perfect tense in Turkish (have come)).
In English it would be common for a game site like IGN to report something like "The first images of Far Cry: Primal have been released".
Kotaku (http://kotaku.com/the-next-far-cry-will-go-to-the-ice-age-1734775898) seems pretty sure of itself that this is an Ice Age Far Cry (according to "sources familiar with goings-on at Ubisoft"):
Their words on this:
"Expect to see woolly mammoths, tigers, and other prehistorical animals. Maybe tribal combat using bows and spears. Probably no dinosaurs, but who knows?"
If that is the case it would fit really well with the assets and framework we have with FC4 especially given how Valley of the Yeti and the Himalayans looks aesthetically. All that snow, ice and blizzards.
A comment on this PC Gamer article (which is essentially the same as the Kotaku one) -
www.pcgamer.com/far-cry-primal-announcement/
says the following:
"Its a mobile game for iOS and Android . This was in the news of some Dutch mobile gaming websites. They talked about mobile gaming becomming bigger and bigger.
Quote: " we zien ook spellen als Far cry nu naar tablets komen, Ubisoft is al bezig met een prehistorische FarCry op de iOS en Android wat later dit jaar laat zien wat mogelijk is op de nieuwe iPad pro bijvoorbeeld. "
Translation : we are seeing games like FarCry comming out on tablets. Ubisoft is already working on some prehistoric FarCry for iOS and Android comming out later this year showing whats possible on something like the new iPad pro""
But remember kids you should ALWAYS believe random comments on the internet. There is absolutely no confirmed sources on ANY of this other than Ubi did take out a steam slot and they did tease the cave painting on YouTube. All the accounts relating to the IGN Turkey "leak" have been suspended and taken down so I'm not 100% sure it actually WAS an official IGN account.
For all anyone knows the cave painting thing could be yet another Assassin's Creed game.
I really DO hope that it IS a Far Cry game. I'm a little suspicious though that it would be a straight historical game especially one set in the Ice Age, but the terrain and animals could definitely be shoehorned in and bow hunting is always fun in Far Cry. It's just kind of a stretch to see a FC game, even a spin off, without guns and a connection to technology of some kind... I wouldn't think much elaborate voice acting nor journal entries in an Ice Age setting. WOuld we be collecting stone tablets? Crafting bone clubs and spears? No syringes so we chomp on the green leaves? World map? Minimap? I dunno how a lot of the preset designs in the game engine would work with a strictly primitive setting.