Post by flanker1six on Mar 8, 2016 0:59:21 GMT
I don't Facebook, Twitter, or any other social media (obviously can't direct you to something that doesn't exist). After seeing Bon's post on the outrageous Tenzing-Hillary Nepal airport featured in FC4 as Kyrat Intl Airport; got me thinking about my actual association with many former Royal Nepal Army vets on a couple of different projects in major metropolitan downtown Afghanistan (aka The Stan), as well as actual RPG vehicle strikes, playing with explosives (and more importantly surviving @$$holes who were playing with explosives!) blah, blah, blah.................you get the drift.
As I'm still subject to the NDAs I signed, and something are classified.............there's a lot more to some of the stories I can't tell.
JR; if the photos are taking up too much space/bandwidth...............let me know. I'll downsize and repost!
Hope you guys/gals find them interesting--------I found it interesting living through all of it!
Me and the fellas striking a pose before a run one day [I'm the tall handsome one in case you were wondering

] We were bodyguarding for two counter narcotics advisers to a certain provincial governor. There were actually 10 men besides me (2 NCOs & 8 men), but 3 were on leave to Nepal, and we'd only gotten one replacement. Bushmaster M4s and Beretta M9s all around please! I'm wearing a plate carrier with side kevlar and level 4 (30 cal AP resistant---I was really hoping they were right about that bit!) front & back ballistic plates.
What an RPG will do to a real small vehicle (Ford Ranger pickup/lorry with diesel engine) as opposed to the deliciously explosive runabouts in FC4. Wasn't anybody in it at time of impact--likely would have sustained some injuries even though the truck came out fairly intact. Fuel tank was full though.
The actual rocket/fin part of the RPG warhead inside the engine compartment. First respondents had to put out a fairly small diesel fire when they arrived. A local contracted repair facility repaired and replaced all the damaged bits and we issued the truck to the Afghan National Police (ANP).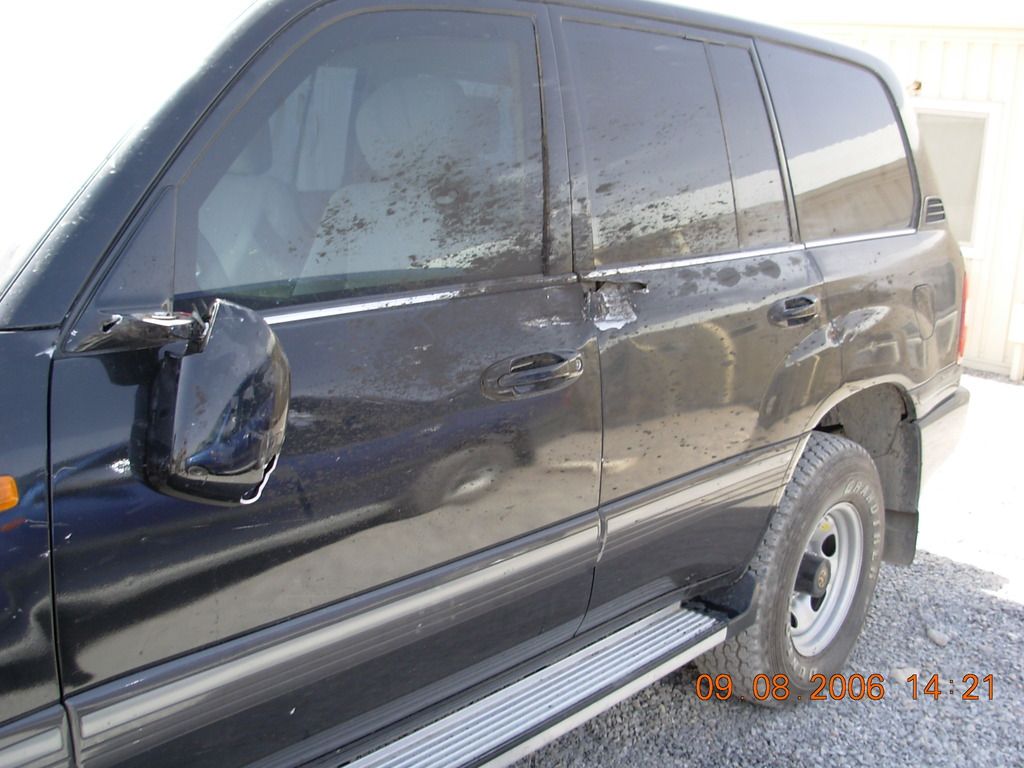 At one of the locations I was stationed at; there was a demining crew operating out of the same camp; though via a different contractor company (American Supervisr/EOD Tech [no EOD suit ala the "Heavies" in FC 4 though---these boys were John Wayning the **** out of their jobs!]; with all local guys doing most of the demining via metal detectors and probing the dirt the old fashioned way!) Flanker has to confess his cojones aren't nearly big enough to do that TOTALLY hairy ****! I literally CRINGED in fear the couple times I watched them work! Anyway; they were on their way to their demining site for the day; when a Taliban in a VBIED (vehicle born IED) veered into their lane and detonated himself. As you may imagine; it's difficult to get suicide bombers with any degree of real experience----this twat was no exception as he detonated prematurely! The DMC driver was on his game, and swerved--driving through the expanding fireball slightly to the right of it. Hence the damage to the vehicle skin on the driver's side. The driver saved everyone's @$$e$ on this one!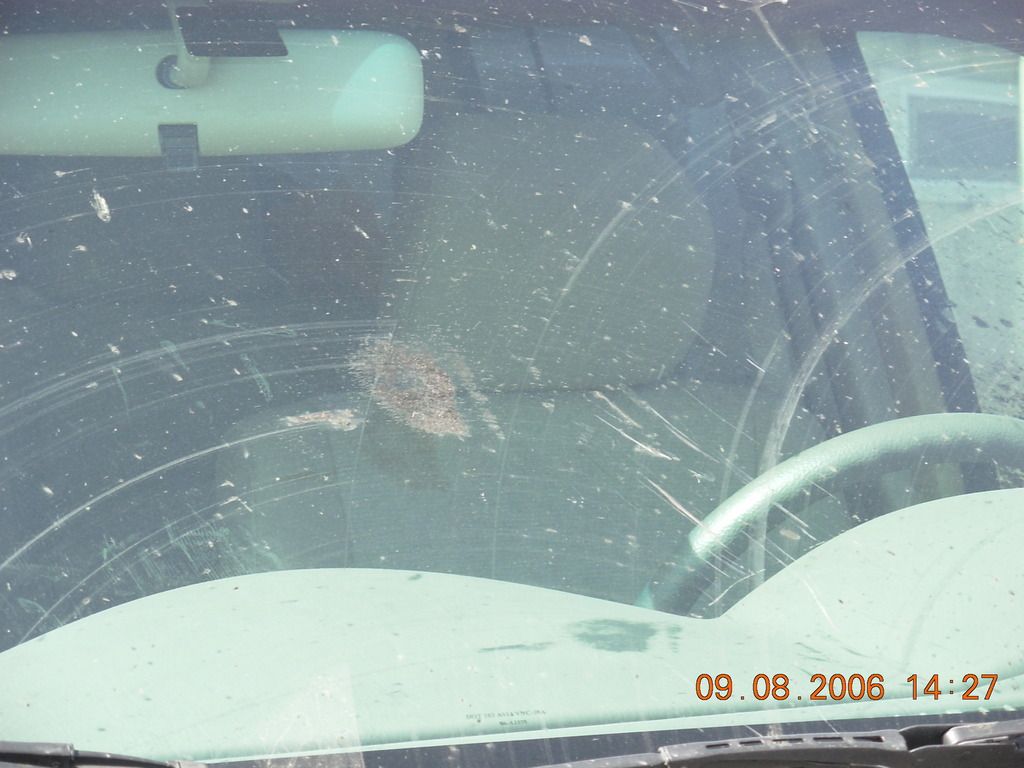 The large dark red smear in the middle of the windshield? I'm sure you can fill in the blanks! YUCK!!!!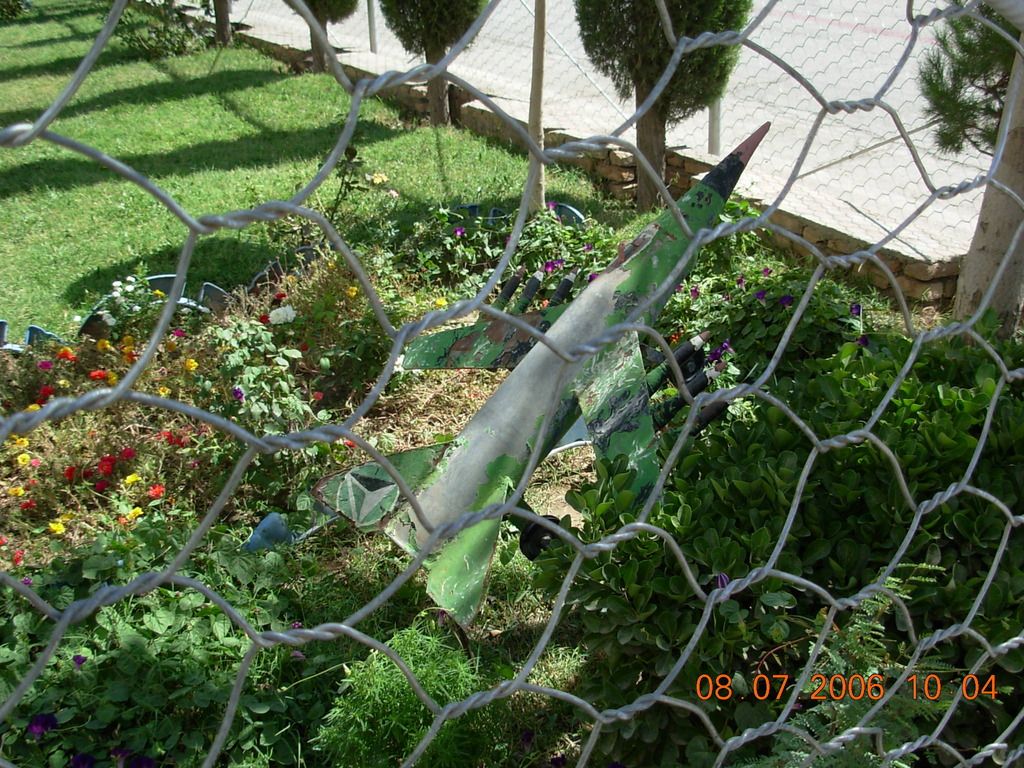 At another location---some local artist had crafted this jet out of old Soviet munitions. Not sure what caliber the fuselage is; 122mm artillery? The weapons under the wings looked like 23mm anti aircraft rounds--though I'm not sure about them either. Had any of them been safed? You tell me and we'll both know!