Post by flanker1six on Mar 8, 2016 1:36:50 GMT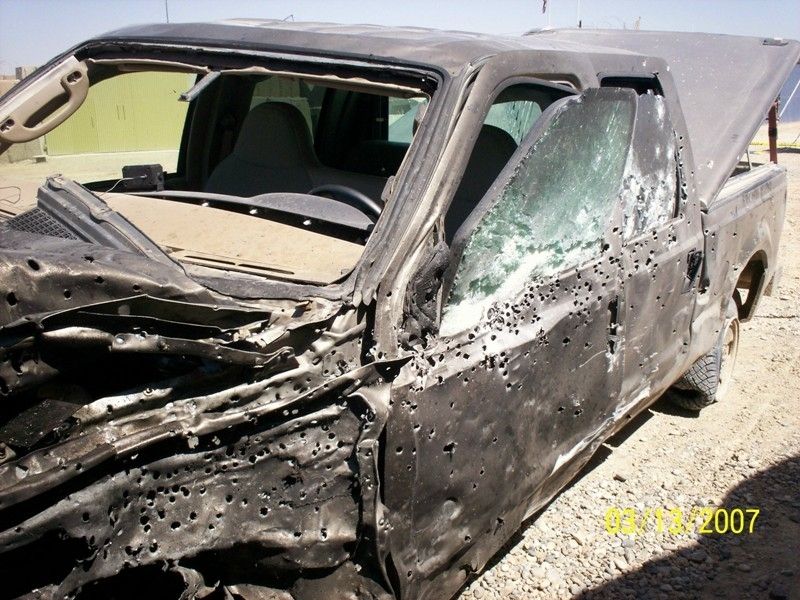 Ever wonder what driving next to a dude wearing an explosive belt with lots of ball bearings just for you would look like? Uparmored Ford F250 4x4, passenger compartment sheathed in steel, with 1"/27mm-1.25"/31mm laminated glass all around. Everyone survived with headaches and ringing ears [bomber didn't make it
in case you were wondering
].
The ball bearings our "Fan" was attempting to share in the photo above. Two penetrated the armor package out of however many hundreds on the vest. Better luck next time ***hole!
At another location--I had two of these parked 100m from my crib! Arizona Air National Guard. There were 6 more AH64As at the bae next door belonging to a Coalition Member State. The two AZ birds flew solely as escort for a Blackhawk CSAR (Combat Search And Rescue) bird, and a CH47 Chinook personnel/resupply bird. The 6 other 64 used to fly regular partrols around the base; as it was completely surround by mountains. Never saw them out with any Hellfires; just 2.75 in/70mm rockets and lot's 30mm Hate for the Chain Gun. If they ran across any "Golden Path" kids up in the mountains---------------it WAS NOT a good day for the kids. I heard the choppers lighting their @$$e$ up with the 30 on many occasions! After about 15 minutes of near steady 30mm firing one day; I says to my partner, "Damn! I'll bet those guys are getting tired of being shot at by now!" My [artner quips back, "Just the live ones!"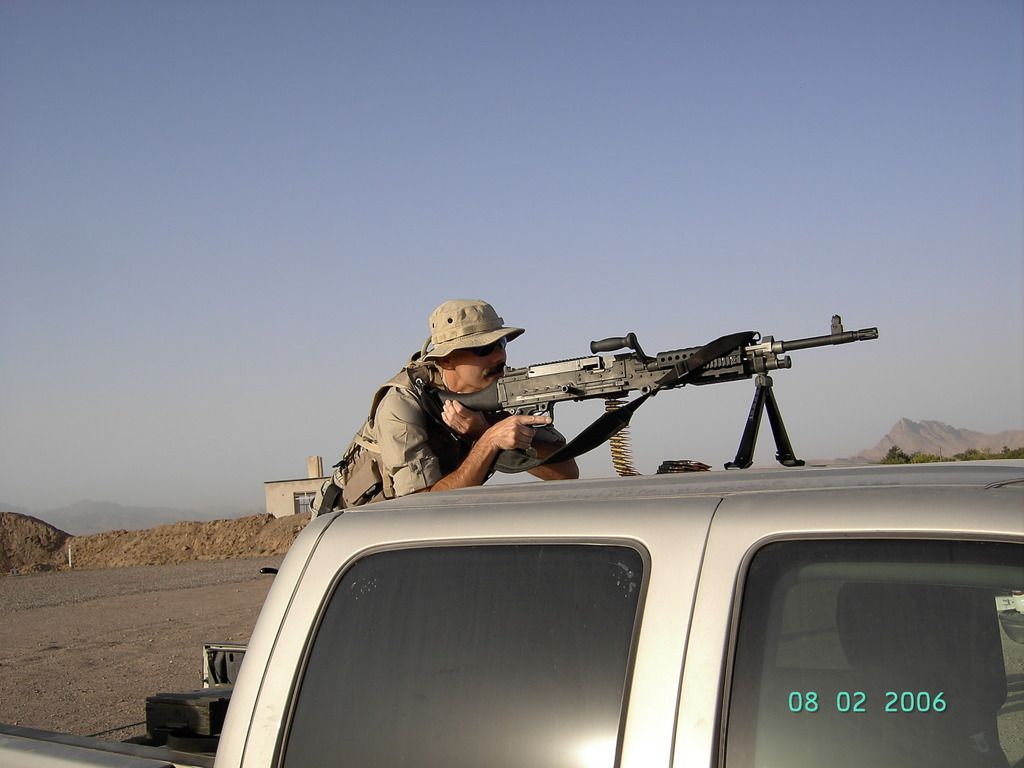 Yet another location---we trained large numbers of ANP in modern western style weapons handling (alass--to no avail as we just couldn't get the dip$hits to NOT close their eyes when they fired!) with AK variants of all kinds and S & W MP 9s. As the range was outside of camp in the desert---we could not rule out the possibility of uninvited guests showing up in a vehicle loaded with large quantities of unpleasant pyrotechnics of unknown vintage and type. One of us security types always faced one of the trucks towards the range entrance with an M240 stationed like this as the "Welcome Wagon".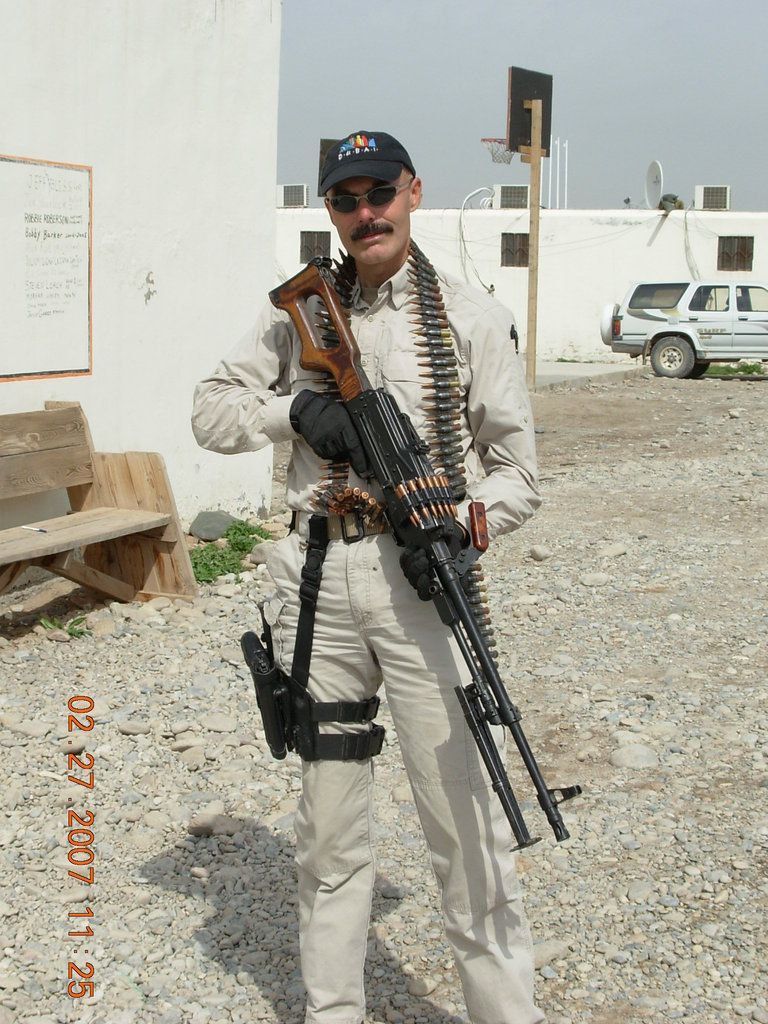 Soldier of Fortune shot of me 'n my trusty PKM (at yet another location). SO! How come you're carrying your ammo belt in the old standby Pancho Villa method instead of in an ammo can Flanker? Well.....................that'd be because my employer was too poor and disorganized to provide one to me. The PKM was fun to shoot; dead nuts reliable (as you'd expect), and lived under my bunk the entire time it was issue to me. No ammo can (remember?), too bleeping long and heavy to be getting in and out of Ford F250/350s all day long. Rolled with my M4 instead!
Surprise! Another location..............gave me an M249; there were some 14.5 in para barrels floating around but not for this SAW. 200 in the can; 1200 more in the truck................only for serious social occasions though!
As you know from too many hours of cavalier mayhem in the FC series.......................most serious security professionals prefer Honey Badgers for real No $hit camp perimeter/point security. That's just make beleive gaming though. Due to real world budget constraints...................we used Guard Cats. Think it's silly? Let me tell you..................you get a couple of drinks in them and they were not to be messed with!